🖤⭐ ℍ𝕠𝕥 ℕ𝕖𝕨 ℝ𝕖𝕝𝕖𝕒𝕤𝕖 ⭐🖤
𝙏𝙝𝙚 𝙂𝙤𝙡𝙙𝙚𝙣 𝘽𝙤𝙮𝙨 𝙗𝙮 𝙉𝙞𝙠𝙠𝙞 𝙏𝙝𝙤𝙧𝙣𝙚 & 𝙍𝙖𝙘𝙝𝙚𝙡 𝙅𝙤𝙣𝙖𝙨 𝙞𝙨 𝙇𝙄𝙑𝙀! 𝘿𝙤𝙣'𝙩 𝙢𝙞𝙨𝙨 𝙩𝙝𝙞𝙨 𝙚𝙣𝙚𝙢𝙞𝙚𝙨-𝙩𝙤-𝙡𝙤𝙫𝙚𝙧𝙨 𝙧𝙤𝙢𝙖𝙣𝙘𝙚. #𝙊𝙣𝙚-𝙘𝙡𝙞𝙘𝙠 𝙩𝙤𝙙𝙖𝙮!
BLURB
West Golden—so easy to hate, yet so hard to resist.
Don't let that pretty face of his fool you. He isn't the boy next door, or the kind you trust with your heart. He's the devil in designer jeans, with all the charm of a bona fide psycho.
Trust me.
He swears I did something to cross him before I even stepped foot inside Cypress Prep, but it's a lie. No one knows better than me that I'm all out of chances. One more misstep and I can kiss my future goodbye, which means I can't possibly be guilty of whatever he thinks I've done.
West marks me with a target anyway, and as this town's football star, no one dares to go against him. His money, status, and the loyalty of his equally entitled brothers makes him seem untouchable. Only, I know better than that.
This false god isn't infallible like he wants the world to believe. Whenever I stare into those devilish green eyes, I see it plain as day. The chink in his armor. His one and only weakness.
Me.
The King of Cypress Prep has finally met his match and taking him down just became an inside job.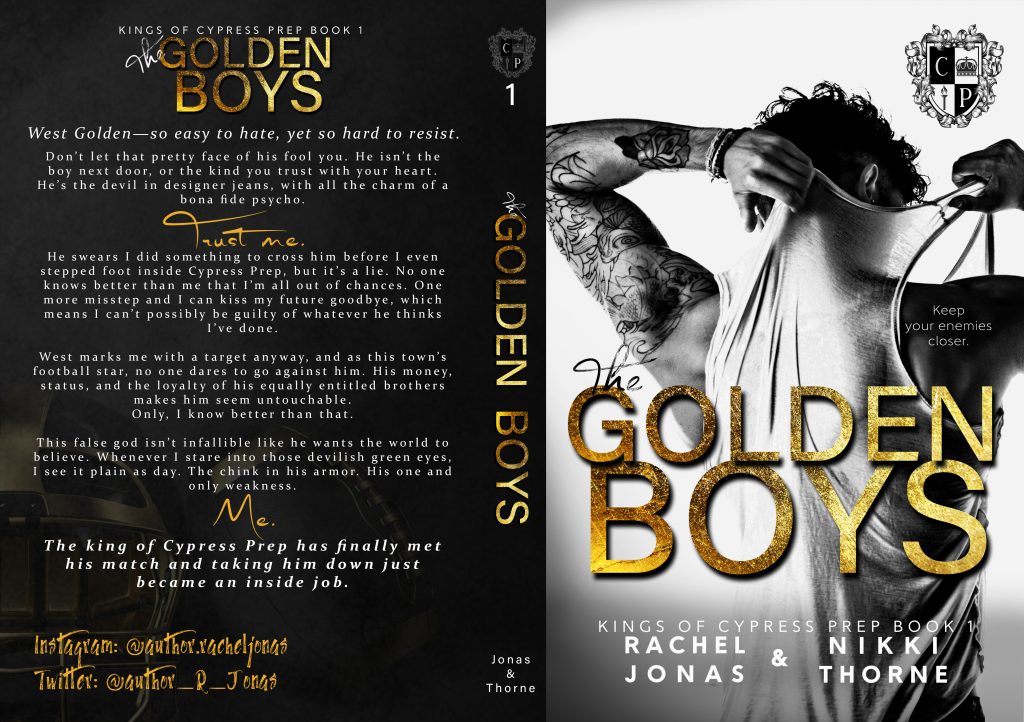 PURCHASE LINK
GIVEAWAY
To celebrate the release of The Golden Boys, Nikki Thorne & Rachel Jonas are giving away a paperback and $100 Amazon gift card!
Head here to enter: https://www.facebook.com/authorracheljonas/
AUTHOR LINKS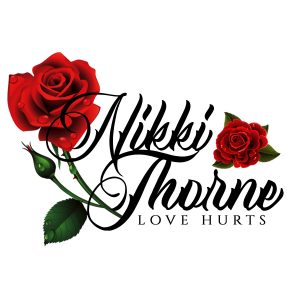 Facebook | Reader Group | Instagram | Twitter | Mailing List | Goodreads | Amazon | BookBub | Pinterest | TikTok