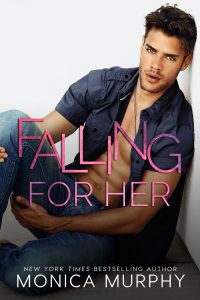 I sort of hate how good looking he is. And then again, I sort of love it.
Falling for Her by New York Times and USA Today bestselling author, Monica Murphy is now live!
Jake Callahan. Prince of the popular crowd.
My mortal enemy.
Gorgeous. All the girls want him.
Quarterback. All the boys want to be his friend. He's the most popular boy in the senior class.
And he hates me.
Or so I thought.
What I mistook for hatred turns out to be…interest. There's that thin line, right? It makes me crazy. I can't stand it. Attraction, chemistry, whatever it is, I also can't resist it.
And neither can he.
Together, we make no sense. The odds are against us. His friends definitely don't approve. I'm not a part of their crowd. Not one of the cool kids. I don't fit in, or so they say.
But that doesn't stop him from falling for me.
And it won't stop me from fighting for him.
❣ Goodreads ❣
Download today

or read for free in Kindle Unlimited!
❣ Amazon ❣ Amazon Worldwide ❣
EXCERPT
Hannah settles into the chair closest to mine, a sketchpad in her hands. She flips through it, and I can see page after page of drawings, some of them so realistic I want to tell her to stop so I can really check them out, but I keep quiet. I'm not about to bring attention to myself again. I don't want to get kicked out of the class.
I freaking need this class.
By the time Sanborne is done talking and telling all of us to try our hand at drawing, I feel like I'm about to burst with my need to talk to Hannah. "You mad at me?"
Her head bent, she's concentrating on the movements of her pencil across the paper. "What?" she asks distractedly.
"Hannah." She glances up at me when I say her name, those pretty blue eyes extra wide. "Are you mad at me?"
She frowns. "Why do you think I'm mad at you?"
"Oh, I don't know. Maybe it's the way you've avoided me since class started," I tell her. "I was the last person you gave a sketchpad to."
"Maybe I saved the best for last?" she says weakly.
I don't smile. I don't say a word. This usually works for me.
But Hannah's quiet too. And stubborn. I can tell by the jut of her chin. The way she studies me, her expression blank.
Damn. She's good.
"Are you only going to talk to me on Snap, but not at school?" I ask, my voice low.
She blinks rapidly, like she can't believe what I just said. "No."
"That's what it seems like."
A sigh escapes her and she drops her head, refocusing on the sketchpad. "I don't know how to talk to you."
"Huh?"
"In person." She looks up, then immediately looks away. "I'm an idiot."
A smile starts to curl my lips and I immediately tell myself to stop. "You're not an idiot."
"I'm sorry if I hurt your feelings," she murmurs morosely.
"You're forgiven."
She lifts her head when I say that, her plump lips turned upward, and I'm hit with a sudden flash of wanting to kiss her.
Yeah. No. Not going to happen.
"Great, thanks so much," she returns, then gestures toward my blank sketchpad. "You better get started. She's going to want to check out your technique."
"I've got the best technique in this school, don't you know?" I can't help but say, and Hannah's cheeks turn pink again.
She's really cute when she blushes.
"Don't be a perv," she says, grabbing my discarded pencil and pointing it toward me. "Start drawing."
"Do I have to?" I slide my fingers onto hers, my thumb curling around hers before I pluck the pencil from her grip.
"Y-yes. You do." Her voice is shaky, and I wonder if my touch affected her.
I hope it did. All I have to do is look at her and she affects me.
Whatever's happening between us is confusing as hell.
"I didn't listen to a word the teacher said," I tell Hannah, and she scoots her chair closer to mine, launching into the same lecture Sanborne did, almost word for word.
I listen to the rhythm of Hannah's speech, the excited way she speaks. She loves art, I can tell, and she genuinely wants to help me. I stare at her mouth, the way it moves, how her front teeth protrude the slightest bit, giving her this sexy overbite. I'm fucking entranced, caught up in her spell and when she finishes lecturing me with the faintest smile on her face, all I can do is smile in return.
"Oh. So you do smile," she says softly.
I turn it into a frown. "No I don't."
She laughs, and I soak up the sound.
It's just as pretty as I thought it would be.

Meet Monica
Monica Murphy is a New York Times, USA Today, and international bestselling romance author. Her books have been translated in almost a dozen languages and have sold over two million copies worldwide. Both a traditionally published and independently published author, she writes young adult, new adult and contemporary romance. She's also known as USA Today bestselling author Karen Erickson.
A native Californian, she lives on fourteen acres in the middle of nowhere with her husband, two kids, one dog, and four cats. When she's not writing, she's an assistant coach for her daughter's high school cheer team, which is a two season sport. Meaning, she's at practice with a bunch of teenage girls all the time. Or she's at a football game. Or a basketball game. Maybe someday, she'll even write about this experience.
Connect with Monica
❣ Facebook ❣ Goodreads ❣ Amazon ❣ Twitter ❣ Website ❣ Newsletter ❣ Bookbub ❣ Instagram ❣ Twitter ❣